Disney's Blizzard Beach Orlando, Florida - Greatest Water Parks in the USA | VIVID Traveler
Disney's Blizzard Beach is one of the best water park resorts in the USA. Blizzard Beach is themed after a ski resort that was hit by a freak snowstorm, and the park is full of thrills and spills for visitors of all ages. From the Mt. Gushmore peak, which stands 90 feet tall, to the Summit Plummet free-fall slide, there are plenty of adrenaline-pumping rides to enjoy. And for those who want to relax, there are also several leisurely pools and a lazy river to float down. Whether you're looking for thrill or relaxation, Blizzard Beach has something for everyone.
CLICK HERE to  book your trip to the Disney's Blizzard Beach
CLICK HERE to download the What To Bring to Disney's Blizzard Beach Water Park FREE Checklist
CLICK HERE to learn about how VIVIDMax Grip Clogs should fit
CLICK HERE to learn about how to wear the VIVIDMax Grip Straps
CLICK HERE to learn about how to clean the VIVIDMax Grip Clogs
What to Bring to an Water Park Checklist | Top Essential Things to Bring For Adults & Children/Kids
Planning and booking your first water park trip can be SO EXCITING. This first water park packing checklist will help make sure you have everything you need for new splashy memories in your life. There are so many products to consider that it can be difficult to remember everything. From earplugs to waterproof cameras, to towels that won't stay soggy...it can become very overwhelming! We have made a printable version of this huge first water park trip packing checklist so that you can use it and make sure you have everything you need. 
You DO NOT need to buy everything (we didn't...it's expensive!) but having a list that you can refer back to makes life so much easier.
This post may contain affiliate links, which means we receive a commission if you purchase through our link, at no extra cost to you. Please read full disclosure 
here
.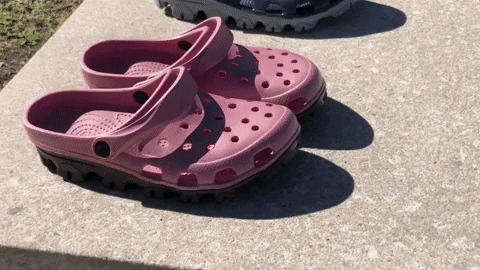 Taking your first water park trip can be SO EXCITING. Many of America's best water parks have multi-person raft rides and water coaster rides that climb hills, twist, turn, and drop like a regular roller coaster. Put on your VIVIDMax Grip, learn how to strap your VIVIDMax Grips into water sports mode.
Don't sacrifice your cellphone in hopes of capturing a few photos. This bang for your buck under $70 easy-to-use waterproof digital camera is great for both selfies and action shots, so feel free to snap away. Whether you're an underwater photographer or a watersport enthusiast, this best waterproof camera can capture excellent images above and below the waves. From reinforced compact to all-out action camera, we've tested the best waterproof cameras to help you find your ideal option. Buy yours on Amazon.
Let's face it. Nobody wants to have bright-red, chlorine-irritated eyes. Protect your peepers from the chemicals by throwing on these lightweight goggles. We've tested and reviewed many google to find the best options for you, these goggles have the best reviews and is the most affordable + they come with a case! Buy it now.
Let's face it. This too! Nobody wants to have water clogged ears! Avoid dreaded swimmer's ear by using these earplugs, which block water from entering the ear canal. Don't worry about them falling out, either: Their anti-slid allows them to stay in place all day long. Made of super soft silicon, it is comfortable and easy to wear. Buy it now.
If you have not ever worn a sun visor hat, then you are most likely to be gambling with energy away in the sun at the water park all day. We recommend you wear summer hats such as the visors hats to prevent your skin from prolonged exposure to the sunlight. Buy it now.
The best dry bag for keeping your valuables safe and not waterlogged.  Say no to leaving all your goods at the water park and sending a little prayer to the cosmos that they're still around when you return, we have another suggestion: dry bags. If you're concerned about your stuff getting wet, dry bags have your back.  
After waiting on lines, chasing down your kids, and splashing around in the water, you're bound to get hungry or thirsty. Keep your snacks and beverages cold and refreshing in this insulated cooler tote, which can fit up to 48 cans— plus ice. Buy it now.
Whether you're in the lazy river, the wave pool, or on one of the slides, use this silicone strap to keep your eyeglasses or sunglasses safe, secure, and within arm's reach. Buy it now.
Even if it doesn't feel particularly hot outside, ALWAYS wear sunscreen. Sunburn sneaks up out of nowhere and is never fun. Buy In Now.
You can get lots of great pics and videos in and out of the water with a waterproof camera or a GoPro, you may want to bring that with you, as well. These days, keeping your devices charged can be a challenge. You're not likely to have access to charging stations or outlets inside a water park. So, packing spare batteries and/or a portable battery pack is a good idea. And be sure to grab whatever cables you will need, as well! Buy It Now.
Keep your phone dry stowed away in this moisture-proof, mildew-resistant pouch. Its cotton coating is soft and durable — as well as moisture- and dirt-resistant — so no need to worry about unexpected leaks or spills. This versatile case fits over almost any type of smart phone. It's also touch-friendly, so you can post photos and status updates in real time. Buy it now.
EQUIPPED to suit your needs and optimized for a large variety of injuries and having all the 1st aid items gathered ahead of time will help you handle unexpected moments (includes CPR Mask, Bandaids, Blanket, Tourniquet and more). TrusteAdod by families, lifeguards, parents, students, teachers, nurses, doctors, EMT's, construction workers, truck drivers and professional business offices. Easy to carry and lightweight yet holds all the essential supplies (100 pcs with great shelf life, refill when necessary). Buy It Now.
These lightweight towels come in different colors — get one for each member of your travel party. Additionally, the towels' innovative fabric blend allows them to dry faster than standard ones. Bonus: They're partially made from recycled materials. Buy it now.
Keep your little swimmers safe in one of these kid-size life vests, which feature an adjustable buckle at the back. Choose from adorable designs, including a smiling green turtle and a unicorn.  Buy it now.
Waterparks tends to get crowded and overparked very quickly.  Most likely, your car will be parked out in the sun all day and by the time you get done at the end of the day you'll be coming back to a toasty oven. We recommend buying this (4-pack) window sunshade to minimize heat entry and reduce the temptation of a car break-in just in case you do have valuables you'd like to keep in the car. Make sure it is not visible. Buy it now.
Everything at the park is expensive, including bottled water. Plus, using your own bottle is also more eco-friendly obviously. Buy It Now.
SPIbelt offers different sizes, and we found that the larger size fit the phone, keys, and credit cards perfectly. All the valuables we tested went on the coasters with our staff member (tucked under their shirt) while their bag had to be locked in a locker or left in the stroller. Buy It Now.
Using your own stainless bottle is also more eco-friendly obviously and long lasting. Buy It Now.
Ziploc bags have so many different uses. Use them to hold leftover food. Use them to protect your valuables on water rides. Use them to keep your masks in while you eat and take them off (if masks are required at the park you're visiting). We typically suggest bringing a couple of each size just to be ready for anything! Buy it now.
When you are visiting Water Parks be cautious of many attractive distractions. It is very easy to lose sight of your valuable things when they slip out of our pockets. Buying this under $25 waterproof trackable device can be your lifesaver just in case you lose your wallet or your bag or other valuable goods you wish to track during your visit. Buy It Now.
So many places aren't providing straws these days or if they are, they're providing paper ones. Pack these little reusable silicone straws to pull out whenever we need them. They come in a little carrying case, fold up to small, and even come with a cleaning kit! They keep your lips from getting too cold or too hot and protect your teeth and lips from chipping. This kit includes a helpful travel case so you can bring some of your reusable straw with you on the go. Buy It Now.
This one should be self-explanatory. Water parks are full of germs and you're likely eating food you'll be picking up with your hands (pizza, chicken tenders, french fries). Bring a small container of hand sanitizer that doesn't need water. We've found that out from one of our employees that hand sanitizer containers at a lot of amusement parks right now are not being kept filled, so we recommend bringing your own. Buy it Now.
We recommend bringing a ponytail holder to put your hair up for slides, when you go on water rides, and when it just gets too hot. And don't forget a brush if you're headed to the water park. Buy It Now.
Great for waiting in line while waiting for rides. 
Waterparks tends to get crowded and over parked very quickly.  Most likely, your car will be parked out in the sun all day and by the time you get done at the end of the day you'll be coming back to a toasty oven. We recommend buying this windshield sunshade to minimize heat entry. Buy It Now.
Your car will be parked out in the sun all day and by the time you get done with all the memories you created it will be hard to remember where you parked your car. It is very easy to lose sight so this real time car tracker will help you find where you parked! Buy It Now.
Want a first water park checklist PDF? You can download the exact and FULL (More than 10 things to bring) packing list we made for our roadsters directly to your phone or computer! It is guaranteed to make your life SO much easier.