Dog Park Essentials: What to Pack
This post may contain affiliate links, which means we receive a commission if you purchase through our link, at no extra cost to you. Please read full disclosure
 

here.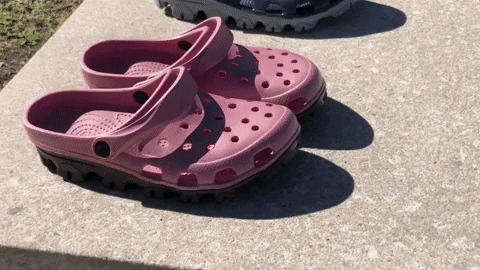 YES! You'll be walking a lot on mud, grass and terrains. These overpowering clogs provide incredible protection for a day at the dog park. Order yours today!
On hot days portable dog water bottles are a necessity for your dog that's going to run and play. At minimum you should get a dog one of these bottles to remember to take breaks from playing. Our list is of dog bottles currently rate the best and most popular pet water bottles.
Your local dog park may not have it. Some parks do provide doggy bags, but it's always better to be safe rather than sorry. You don't want to be that pet parent empty-handed when your pooch relieves themselves, and you have nothing to use to pick up after them. Also, consider using biodegradable doggy bags – they do just as good as a job as ordinary doggy bags, except they're also great for the environment! These are the best options on Amazon for dog waste bags.
Regular dog collars can be dangerous for your dog, especially if they get in a scuffle with another dog. A quick release breakaway collar will protect them from potential dangers like neck strain, strangulation, or even death. Shop at Amazon for these collars that you love the most and keep your pets safe. 
All dogs should have an identification tag in case they escape from the fenced in area. Pet ID tags ensure that if your pet does get lost, it's easy for the person who finds them to get in contact with you and get your pet home safe. 2. Unexpected events happen. Natural disasters can strike without warning, as can man-made problems like car accidents or a house fire. Not to worry, we've curated a list of the best Pet IDs to shop on Amazon. Simply tap on one that interests you the most.
All dogs should be on a leash until they enter the dog park area. However trying to take your dog's leash off while they are excited can be a challenge. These highly rated dog leashes will make sure you're well equipped and in control of your dog at all times.
7. Your Cell Phone
Preload the local animal control number so you have it if needed.
Air horns are loud. And effective. The blast of an air horn usually startles the dogs for long enough to grab their leashes and pull them apart. It's worked almost every time I've ever used it, and it's a common tool seen at animal shelters. If a dog fight breaks out don't get in the middle. Try to break up the fight while keeping a safe distance. Buy one these top rated ones now!
Leave one of these towels in the car in case your dog gets muddy or wet. This can be very useful in your efforts to keep your dry and clean at all times.
If you really do not want to get your hands in, then these work great for a substitute. Place a few pieces of paper on the pet poop for picking up cleanly. Place the trash bag over the pooper scooper and throw the poop into the trash to ensure a sanitary pickup. Great for dogs of all sizes! Easy to use! No stuck on poo! No gloves needed! It's that simple. Buy It Now
OTHER  SCOOPERS TO CONSIDER: 
 WHAT NOT TO BRING
We recommend not bringing these to the park, but they are great for returning from the park and rewarding their behavior at home!
1. Treats/food
Leave the snacks in the car or at home to avoid potential dog fights and being hounded by other dogs.
2. Your dog's favorite toy

Bear in mind that any toys you bring to the dog park are subject to being taken away by another dog or get misplaced. These are great toys to leave at home.
3. Unvaccinated Dogs

If your dog is unvaccinated, you shouldn't bring them to a dog park for their own safety. They could catch a disease from other dogs or other wildlife in the dog park.
Want a first dog park checklist PDF? You can download the exact packing list we made for our dog roadsters directly to your phone or computer! It is guaranteed to make your life SO much easier.