Glenwood Caverns Adventure Park The Best Amusement Park in Colorado
Glenwood Caverns Adventure Park is located in Glenwood Springs, Colorado and is one of the only amusement parks in the United States to be located on a mountain. In addition to the numerous rides in the park (including an alpine coaster), visitors can explore Glenwood Caverns which features winding pathways and light displays. There are guided tours available as well as a thrill-seekers option which takes you deep into the caverns requiring you to crawl through tunnels. Other attractions in the park include a laser tag room, 4D motion theater, zip line, and climbing wall. This adventure park also hosts many music festivals and a major Oktoberfest celebration.
CLICK HERE to book your trip to Glenwood Caverns Adventure Park
CLICK HERE to download the What to Bring to Glenwood Caverns Adventure Park Amusement Park FREE Checklist.
CLICK HERE to learn about how VIVIDMax Grip Clogs should fit
CLICK HERE to learn about how to wear the VIVIDMax Grip Straps
CLICK HERE to learn about how to clean the VIVIDMax Grip Clogs
What to Bring to an Amusement Park Checklist | Top 10 Things to Bring
This post may contain affiliate links, which means we receive a commission if you purchase through our link, at no extra cost to you. Please read full disclosure 
here
.
Taking your first amusement park trip can be a rollercoaster. This first amusement theme park packing checklist will help make sure you have everything you need for this new trip in your life.
Are you traveling on your first Theme Park and putting a list together of everything you need? 
There are so many products to consider that it can be difficult to remember everything. From cool down items to reusable straws, to games for standing in line...it can become very overwhelming!
We have made a printable version of this huge first theme park packing checklist so that you can use it and make sure you have everything you need.
You DO NOT need to buy everything (we didn't...it's expensive!) but having a list that you can refer back to makes life so much easier.
When you're visiting Amusement Theme Parks in the depths of summer (AKA scorching temperatures on the face of the sun), it's important that you know all about the best cooling towels, so you're not left sweating from every orifice with no escape. Regulate your body temperature to a comfortable level with this towel so you can play and run around longer without suffering the effects of heat stress.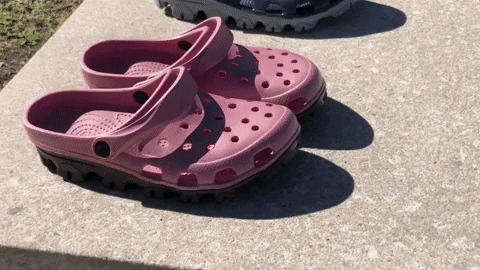 The go-to unrivaled comfort full slip-on rubber clog shoe that you're sure to feel protected and supported with day after day. You've never seen it! But we VIVIDLY got your back! Shop the max footwear shoe out of your imagination.  Be sure to notice 14 traction blocks and 26 ventilations equipped for roughed surfaces.
SPIbelt offers different sizes, and I found that the larger size fit my phone, keys, and credit cards perfectly. All my valuables went on the coasters with me (tucked under my shirt) while my bag had to be locked in a locker or left in the stroller.
Everything at the park is expensive, including bottled water. Plus, using your own bottle is also more eco-friendly obviously.
Ziplock bags have so many different uses. Use them to hold leftover food. Use them to protect your valuables on water rides. Use them to keep your masks in while you eat and take them off (if masks are required at the park you're visiting). We typically suggest bringing a couple of each size just to be ready for anything!
When you're visiting Amusement Theme Parks be cautious of many attractive distractions. It is very easy to lose sight of your valuable things when they slip out of our pockets. Buying this under $25 waterproof trackable device can be your lifesaver just in case you lose your wallet or your bag or other valuable goods you wish to track during your visit.
So many places aren't providing straws these days or if they are, they're providing paper ones. Pack these little reusable silicone straws to pull out whenever we need them. They come in a little carrying case, fold up to small, and even come with a cleaning kit! They keep your lips from getting too cold or too hot and protect your teeth and lips from chipping. This kit includes a helpful travel case so you can bring some of your reusable straw with you on the go.
This one should be self-explanatory. Amusement parks are full of germs and you're likely eating food you'll be picking up with your hands (pizza, chicken tenders, french fries). Bring a small container of hand sanitizer that doesn't need water.We've found that out from one of our employees that hand sanitizer containers at a lot of amusement parks right now are not being kept filled, so we recommend bringing your own.
We recommend bringing a ponytail holder to put your hair up for coasters, when you go on water rides, and when it just gets too hot. And don't forget a brush if you're headed to the water park.
Even if it doesn't feel particularly hot outside, ALWAYS wear sunscreen. Sunburn sneaks up out of nowhere and is never fun.
MUST HAVE
Bring a towel even if we're not planning on going to the water park. Just like Ziploc Bags, towels can be used in so many ways.
 BONUS
Great for waiting in line while waiting for rides. 
Waterparks tends to get crowded and over parked very quickly.  Most likely, your car will be parked out in the sun all day and by the time you get done at the end of the day you'll be coming back to a toasty oven. We recommend buying this windshield sunshade to minimize heat entry. Buy It Now.
Your car will be parked out in the sun all day and by the time you get done with all the memories you created it will be hard to remember where you parked your car. It is very easy to lose sight so this real time car tracker will help you find where you parked! Buy It Now.
Want a first theme park checklist PDF? You can download the exact and FULL (More than 10 things to bring) packing list we made for our roadsters directly to your phone or computer! It is guaranteed to make your life SO much easier.